CHS Senior Photos
We had a wonderful time with Joe this week. He will actually be graduating this year from Carmel High School. The session was at his house – so they are very personalized photos of where he grew up and has lived all of his life. We started the session inside, to let the sun go down some, we used his living room and his guitar. He really liked the one with his cat in the background. Then we headed outside with some photos in front of the door and the pretty entry way.
Joe then changed his clothes and we walked around to the side of the house. Here we found a tree house that he built as a youngster. We really liked the texture of the brick house and the greenery.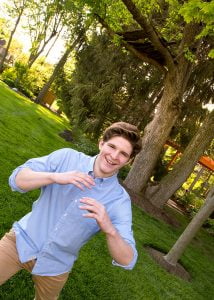 The back yard was beautiful with the stone, waterfall, fire pit and we talked about areas that he would hang out with friends and his family to create these images. He also changed into his favorite Hawaiian shirt. The center image is one just like a portrait that was taken of him when he was about 5 years old, that really brought a big smile to his mom's heart.
Another clothing change and Joe showed us his rope swing skill and we did a few photos in the tree house that he built with his dad, brother and sister. His dad shared stories about the many times they camped out in the tree house and how he even drug out an extension cord to keep everyone warm.
There are other photos of his favorites, in fact they put an album together with 31 poses and had a very hard time narrowing it down to those. Jim is custom designing the album now, I will share that with you when he is done. Joe will be heading to Johnson Bible College in Tennessee where he will be studying to become a youth pastor. I'm sure he will do great in college and in ministry We are now scheduling the class of 2020, keep in mind that we have free sessions through the month of June and 50% off sessions during the month of July. Make sure to follow us on Facebook, Instagram and Pinterest for last minute specials. Many of our seniors come from Carmel High School, Fishers High School, Zionsville High School, Noblesville High School, Cathedral High School, Westfield High School, Hamilton Southeastern High School and University High School. If you would like to schedule a personalized session, give us a call (317)663-4798.
YOU MIGHT ALSO LIKE THESE